Founded in 1998, Southern NH Youth Ballet (SNHYB) is the official performing company of Southern NH Dance Theater. SNHYB provides dancers with unique additional performance opportunities outside of the annual recital to foster their artistic growth and enrich their daily lives through dance.
Since 2001, the historic Palace Theatre in Manchester, NH has presented SNHYB as the Resident Performing Company of The Nutcracker each winter.
SNHYB has been honored by Darla Hoover and Deborah Wingert, repetiteures of the The George Balanchine Trust, to perform Balanchine's works. SNHYB performed Balanchine's Valse-Fantaisie in 2001, 2002 and 2007.
Since 2005, SNHYB has been a Member Company of Regional Dance America, the national association of pre-professional dance companies. Our dancers have had the opportunity to perform all across the Northeast Region, as well as Phoenix, AZ and Montreal, Canada through our membership in RDA. SNHYB is the first company from New Hampshire, and currently the only company from New England, to be accepted into RDA membership.
The SNHYB Junior Company was established in 2019 for our younger dancers, ages 8-11, who are looking for additional performing opportunities outside of the annual recital. Having the opportunity to dance alongside the "big girls and boys" in children's story ballets and original works is thrilling for Junior Company dancers!
Junior Company dancers perform in The Nutcracker, Spring Show, and Year End Performance. They work with master teachers and choreographers, rehearse with our faculty for each show, and wear exquisite costumes prepared by our wardrobe staff!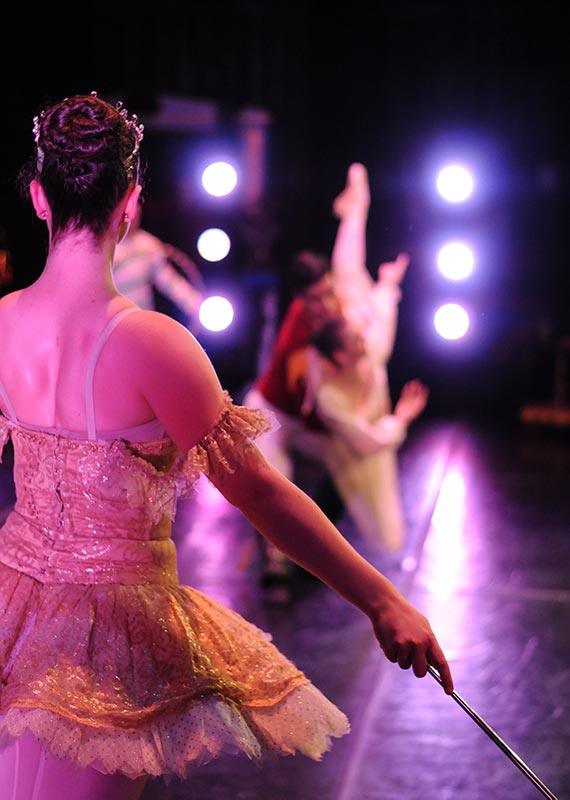 THE NUTCRACKER
As a member of our performing company, you will dance onstage accompanied by a professional live Orchestra and perform alongside hired professional dancers from all across the country. The Youth Ballet traditionally presents six performances each holiday season at the historic Palace Theatre in downtown Manchester, NH.
REGIONAL DANCE AMERICA FESTIVAL
Work with some of the industry's leading choreographers in learning original classical and contemporary pieces that will be presented for performing opportunities at RDA's Northeast Festival in the spring!
SPRING PERFORMANCE
Company members have the opportunity to perform classic and original ballets such as Snow White, Sleeping Beauty, Princess and the Pea, Giselle, Salute to America, Fancy Nancy, Angelina Ballerina, and much more!
YEAR-END EVENING PERFORMANCE
Along with ballet students from Southern NH Dance Theater (ballet levels 5 through 7), all company members perform a collection of classical and contemporary works in the school's annual Year-End Evening Performance.
Our company is a member of Regional Dance America (RDA) Northeast, a national organization of pre-professional dance companies. It's purpose is to encourage and develop companies with high standards, and to offer the directors, choreographers, teachers and dancers additional opportunities to perform and study with master teachers and choreographers and to make contacts within the professional dance world.
Evaluated in the spring of 2005, our company is the first from New Hampshire, and currently the only company from New England, to be accepted into this prestigious organization.
Each spring at the Annual Festival, company dancers have the opportunity to:
Attend Master classes with some of the country's leading professionals
Audition for numerous tuition and cash awards to some of the country's top summer programs. In 2018, RDA Northeast awarded over $66,000 in cash and tuition scholarships
Perform at the Annual Festival
Be seen by college & university recruiters as well as artistic directors from all over the country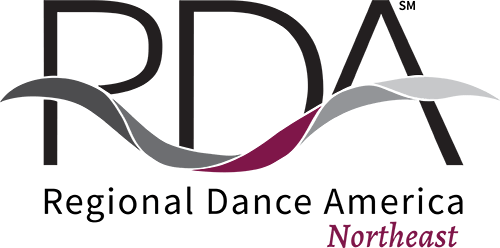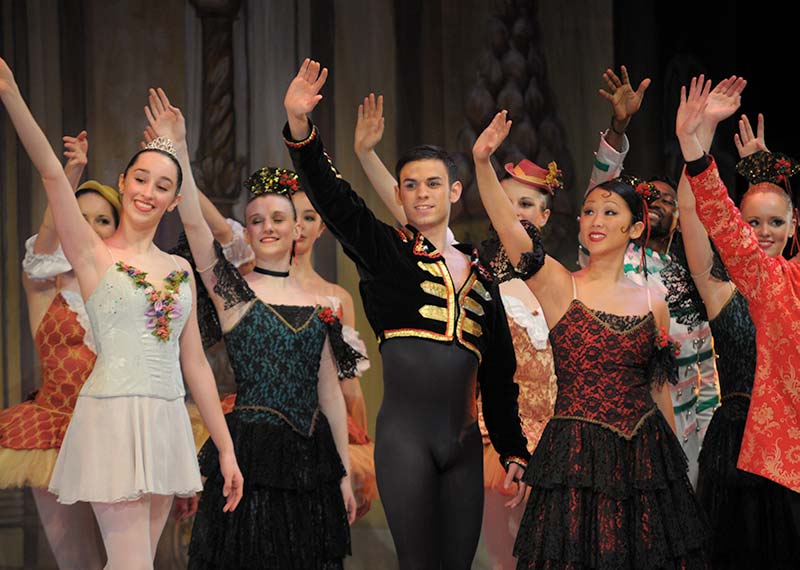 SNHYB DANCERS HAVE…
Performed world premier works, classical ballets, and children's story ballets by renowned choreographers including Ashley Walton, Mary LeGere, Lynn Cote, Benjamin Briones, Bafana Matea, Jeremy Collins, Peter Pawlyshyn, and Kitty Seale, to name a few.
Participated in many prestigious dance programs across the country, including San Francisco Ballet, Pacific Northwest Ballet, School of American Ballet, Alvin Ailey, Miami City Ballet, Ballet Academy East, Alonzo King LINES Ballet, American Ballet Theatre, Houston Ballet, Ballet Academy East,Central Pennsylvania Youth Ballet, Ellison Ballet, HARID Conservatory, Boston Ballet, and more.
Worked professionally with dance companies including Joffrey Ballet, Suzanne Farrell Ballet, Boston Ballet, Cincinnati Ballet, Nashville Ballet, Pennsylvania Ballet, Ballet West, Festival Ballet Providence, Giordano Jazz Dance Chicago, Radio City Rockettes, The Metropolitan Opera, Richmond Ballet, Ballet Austin, Sacramento Ballet, Nevada Ballet Theatre, Royal Caribbean International, WestSide Story, Phantom of the Opera Touring Company, and more.
Ready to Join the Company?
| | JUNIOR | TRAINEE | APPRENTICE | COMPANY |
| --- | --- | --- | --- | --- |
| Participate in The Nutcracker, Spring Show, and Year End Performance | √ | √ | √ | √ |
| Ballet Classes per week (Sept – June) | 1 | 3 | 4 – 5 | 4 – 5 |
| Choice of: Modern, Jazz, Tap, or HipHop | √ | √ | √ | √* |
| Pointe Classes (as assigned by director) | – | √ | √ | √ |
| Make up missed classes within a week of absence | – | √ | √ | √ |
| Summer Intensive at SNHDT – 2 weeks** | – | √ | √ | √ |
| Attend Regional Dance America Northeast Festival | – | Optional | Optional | √ |
*Modern class is required for company members
**Dancers who attend an approved summer program for longer than
5 weeks are only required to attend one week of SNDHT's summer intensive.
Payable at Company Audition:
$250
includes:
$50 nonrefundable audition fee
$200 Nutcracker fee
$0 – no costume fee
$250
includes:
$50 nonrefundable audition fee
$200 Nutcracker fee
$0 – no costume fee
$250
includes:
$50 nonrefundable audition fee
$200 Nutcracker fee
$0 – no costume fee
---
Payable January 2021:
$250
includes:
$50 nonrefundable audition fee
$200 Spring Show fee
$0 – no costume fee
$250
includes:
$50 nonrefundable audition fee
$200 Spring Show fee
$0 – no costume fee
$150
includes:
$50 nonrefundable audition fee
$200 Spring Show fee
$0 – no costume fee
RDA Northeast Festival fee to be determined annually. Deposit due upfront at company audition.
If accepted into SNHYB, the production fees and RDA Festival deposits are non-refundable.
Upfront fees are to be made by cash or check only – payable to Southern NH Youth Ballet (SNHYB).
---
Other Fees
– Company Leotard: price and style to be determined annually
– Personal dancewear and shoes for classes and rehearsals
All dancers wishing to become Company, Apprentice, Trainee dancers or part of the Junior Company for the 2020-2021 Season must audition during their assigned timeframe on one of two audition dates.
All information regarding assigned audition time-slots, dates of conflict, casting decisions, and rehearsal scheduling WILL BE EMAILED DIRECTLY TO YOU via the email you have provided on your audition registration form.
Reminder that our lobby area remains closed at the time being due to the State of NH Reopening Guidelines for dance studios. Please EMAIL info@snhdt.org with any audition questions in advance of the August audition weekend.
---
[/fusion_text]
Monday, August 24th
Audition pre-registration
Tuesday, August 25th
Electronically completed audition forms
Thursday, August 27th
6:30pm
REQUIRED parent zoom meeting
[/fusion_text]
[/fusion_text]
Friday, August 28 – Saturday, August 29
Company / Nutcracker Auditions
Payment for all Company Nutcracker production fees is due at the time of your audition.
Your assigned audition date and time will be confirmed via provided email listed on completed registration.
Auditions will be limited to assigned groups of 8 dancers per audition date and time. 
Judges will review all audition forms in advance to identify problems & dates of conflict. All conflicts will be addressed in advance of the audition.
All audition results will be emailed to families on Tuesday, September 8, 2020.
Dancers will be informed of The Nutcracker casting decisions and schedule via email only. 
Casting is at the sole discretion of the artistic director, choreographers and any judges present at auditions. Dancers and their families are not permitted to make suggestions or question the director regarding any casting decisions.
Roles in The Nutcracker are cast according to skill level.
Judges, faculty and directors make every effort to place each dancer into roles most appropriate for both the dancer and the production as a whole. All cast members are required to learn and dance the parts they are cast in, including all understudy roles.
Every effort will be made to post the cast list for The Nutcracker at the studio the week following the auditions.
*Due to Covid-19, all 2020 casting decisions will be emailed directly to the parents/guardians of the students who auditioned.
All rehearsals for company members are held outside of regular class time.
These rehearsals are held Friday afternoons or evenings, Saturday afternoons and occasionally on Sundays. Company members must attend all rehearsals and performances outlined in the Youth Ballet calendar. Rehearsals for various roles are held on the same day at the same time from week to week. However, all company members must be flexible to schedule changes, whether it is a change in day or time.
It is the responsibility of the dancers to check the studio bulletin board regularly for any schedule changes. Schedule revisions are always clearly marked, posted and emailed to families on Mondays or Tuesdays prior to the rehearsal weekend.
Absences from a rehearsal or costume fitting, leaving early or arriving late are all grounds for dismissal from the Youth Ballet. The school and Youth Ballet staff reserves the right to dismiss and replace any company member at any time.
As we begin a new performance season with strict health and safety protocols, please understand that all scheduled events and performances are tentative and subject to change and/or cancellation. SNHYB will do our best to project schedules in advance to help everyone plan ahead. All casting, rehearsals and events will be planned, organized and implemented with strict health and safety protocols in place.
As a non-profit organization, the Youth Ballet relies heavily on fundraising events to support its endeavors. Parents and or guardians of all company, apprentice and trainee members are asked to participate as volunteers.
Areas where help is needed will be made available at the fall auditions.
Dancers and/or parents who are aware of a potential date of conflict are given the opportunity to submit a date of conflict to the director and panel of judges at the time of company auditions. Both the dancer and their parent will be informed prior to the audition class if this date of conflict is declined or accepted as an excused absence. If declined, the dancer must then decide at the time of the audition if they will be able to participate (if chosen) in the Youth Ballet's season.
Please note that family vacations that conflict with the Youth Ballet calendar are viewed as a date of conflict. Dancers will be replaced if an absence from rehearsal due to illness or other emergency is viewed as hindering them from participating in a given production.
| | |
| --- | --- |
| Fall Classes Begin | Tuesday, September 8 |
| Auditions – Company / Nutcracker | Friday, August 28 – Saturday, August 29 |
| Nutcracker Rehearsals Begin | Friday, September 11 |
| Nutcracker Production Week | November 15 – 22 |
| RDA Rehearsals Begin | Friday, December 6 |
| RDA Adjudication | March 2021 (tentative) |
| Spring Performance | Sunday, April 11 |
| RDA Northeast Festival, Dayton OH | May 20 – 22 |
| Year-End Performance | Saturday, June 5 and Thursday, June 10 |